all you need to know
Holiday with a pet
Dogs are very welcome in the Wildschönau. There are, however, a few rules that should be observed in order to be able to use the numerous hiking and walking trails with your dog and out of consideration for the landowners and the valuable meadows of the local farmers and their livestock.
There are numerous hiking trails along green meadows, through the forest, to streams and up to the mountain pastures, which are perfect for walkers with two or four legs. Mountain huts and excursion destinations are happy to provide dog bowls so that "Fido" can also refresh himself. A jump into the cool water of the mountain streams is also allowed.
Hiking with dogs
In principle, hiking with a dog is allowed almost everywhere. However, some landowners are against it. Therefore, prohibitions through signs should always be followed. This includes in particular the use of doggy bags.
The same applies to winter hiking trails. Here, too, we ask that the paths be kept clean. Dog bags or dog excrement in the snow do not look good and do not promote cooperation between farmers and dog owners.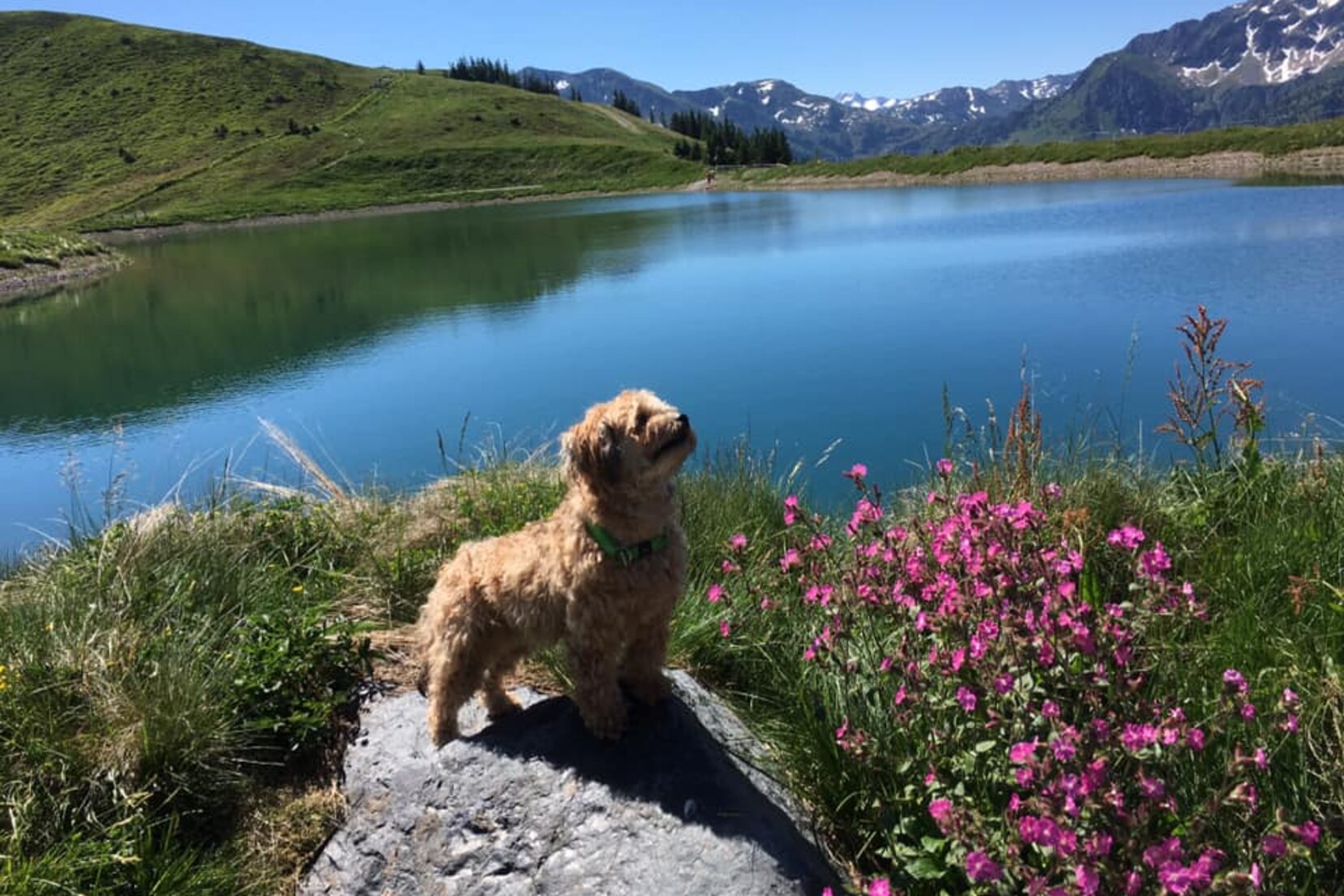 Farmers make an important contribution to the preservation of our alpine landscape. We ask you to respectfully adapt your conduct to this beautiful landscape, by following these ten rules about walking on alpine pastures and meadows.
10 rules for alm walking
Dogs on leashes
Dogs have plenty of room to run free along the walking and hiking trails in the region. On buses, in public buildings (including shops and inns) and near grazing areas, dogs must please be kept on a leash no more than two metres long for their own safety and the - subjective - safety of others. This applies to all dogs regardless how small. Non-compliance can result in a fine of € 500.
In spring, when many wild animals have young, dogs should also be leashed in the forest. The innate hunting instinct often turns even the most docile pet into a danger for game and grazing animals.
On public transport including cable cars
Of course you can take your leashed dog on all buses (muzzle compulsory). The Wildschönau cable cars are happy to transport your dog up the mountain (muzzle compulsory). If you are travelling by train, you can take your dog into the compartment with a dog ticket. Leashes and muzzles are compulsory on the train. Small lap dogs in a dog crate travel free of charge.
Dog bags for excretement
You should always carry a dog waste bag with you. If you don't have any, they are available at the town hall, tourist office or on the dog stations free of charge. For good dog owners it is a matter of course to pick up dog excrement and dispose of it in the nearest rubbish bin. In the countryside, this is mandatory for all public facilities and fields in the valley and on the mountain. It is imperative that the fields and meadows remain free of dog excrement, otherwise the cows grazing there can become seriously ill.
Übersichtsplan Gassi-Sackerl Mülleimer
Check list for dogs on holiday
EU pet passport or international vaccination certificate
Number of the liability insurance
Dog leash, possibly muzzle
Sleeping blanket, favourite toy, brush
Ready-to-eat food, treats, water and food bowl, possibly spoon
For the journey: Water bottles
Old cloths in case he gets wet or dirty
For long hikes and tours at the holiday destination: possibly dog shoes
First-aid kit: tick tongs, iodine solution for disinfecting wounds, wound ointment, travel tablets if necessary, dressing material