Markbachjoch cable car
Hiking and skiing area on the Markbachjoch Mountain.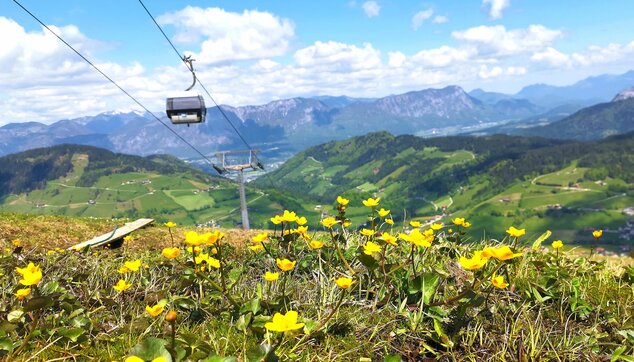 The top of the Markbachjoch cable car is the start for many lovely walks to for example the Käse Alm (Cheese Farm) where fresh dairy produce can be sampled and bought.
The Rosskopf or Feldalphorn mountains are other popular walks from here.
The sculpture park around the mountain lake at Markbachjoch mountain is a real eye-catcher and ideal for exceptional holiday snapshots.
Furthermore, the Markbachjoch is a paradise for paragliders.
The use of the Markbachjoch cable car in summer is included in the Wildschönau Card.
Without Wildschönau Card the following prices apply:
Ascent only:
€ 14.50 per adult
€ 7.30 per child
Ascent and descent:
€ 19.50 per adult
€ 9.80 per child
Descent only:
€ 9.30 per adult
€ 4.70 per child
1 day paragliding (incl. start and landing fee)
€ 42.00
Find more information about the Markbachjoch cable car here ...