The HIghlight
The Alpine Coaster in Drachental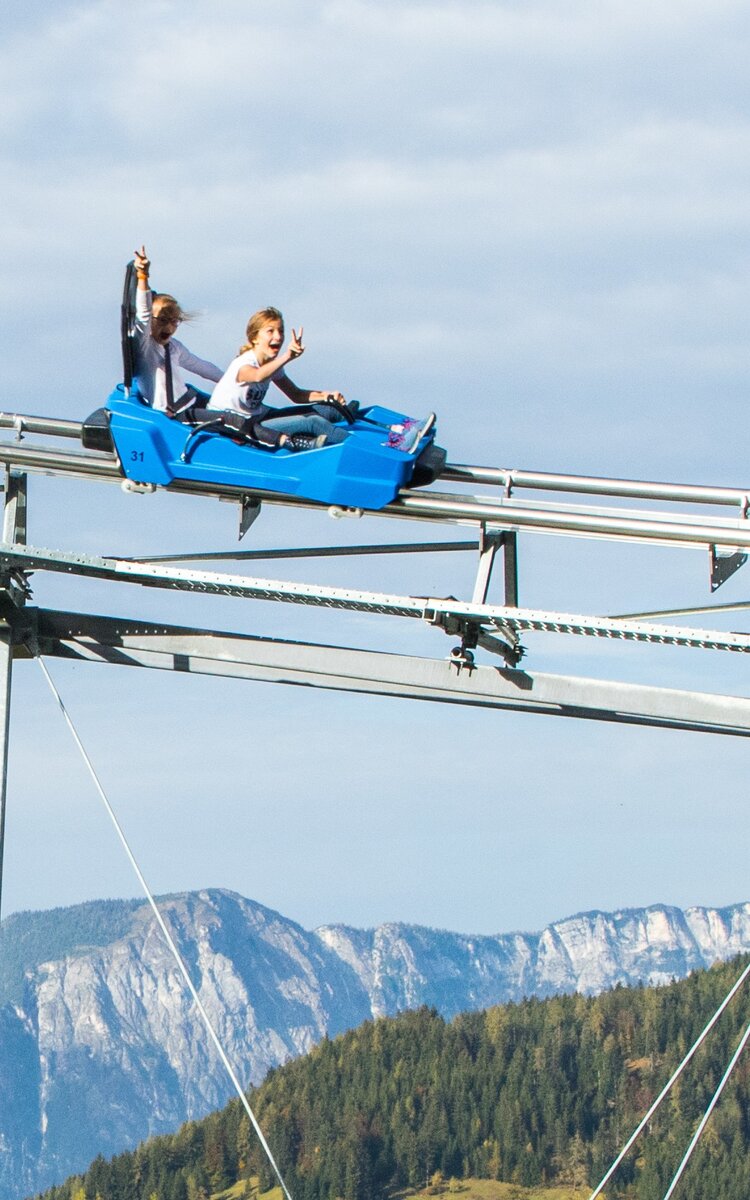 The spectacular Alpine Roller Coaster
The Dragon Flitzer in the Drachental family park in Oberau - Wildschönau is one of the most spectacular Alpine Coasters currently available.
45 red, yellow or blue toboggans await passengers who love fast-paced descents.
First, passengers and their sledges are pulled comfortably up the approx. 625 m long track. Then, from the very top, the 1,355-metre high-speed run goes down the mountain at lightning speed.
Three high spectacular circles (up to 25 metres high) pass numerous curves and bridges and ensure excitement!
Preise und Öffnungszeiten
Adult (born 2008 and older)
Single trip - € 10,00
Block of 4 - € 36,00
Block of 10 - € 85,00
Children (2015-2009)
Single trip - € 8,00
Block of 4 - € 29,00
Block of 10 - € 69,00
Bambini (from 3 years of age until 2016)
Single trip - € 5,50
Block of 4 - € 20,00
Block of 10 - € 46,00
Action photo
€ 4,00 per ride
Age restrictions for children:
Children from 3 to 7 years of age may ride the coaster accompanied by an adult.
Children of 8 and over may ride alone.
From 04.09.2023 until 31.10.2023 Thuesday till Sunday from 10:00 - 18:00 open.
Additional open on monday 02.10 and monday 30.10.2023.
Alpine Coaster
The second-generation Alpine Coaster's comfort sleds are equipped with wider, fixed plastic backrests and are designed to be larger in length and width than those of the previous model. The deeper seat shell also ensures the optimum seating position. The new distance control system has been completely revised and ensures the technically maximum possible safety as well as robust operation of the system. The whole system works wear-free and independent of the weather.