Winter Hiking
Difficulty: Easy
Winter walk along the Valley
Niederau to Auffach
Start in Niederau at St Francis Path near the Wildenbach bus stop. Follow the sculpture path along the valley floor to Oberau. On the way you pass the Z'Bach Farming Museum (open Wednesdays from 12 - 5 pm). Follw the main road into Oberau but cross onto the snowy path along the bottom of the ski slopes to the Hotel Tirolerhof. At the ski school hut turn up to your left for a few metres before continuing right onto the snow path which takes you along the edge of the forest. After about 1.5 km you come Roggenboden and can stop either at the Hotel Talhof or Cafe Jacky for excellent cakes and small meals. Continue along this little side valley and follow signs to Auffauch - take a slight right onto another forest path that leads you fairly steeply downhill. Make your way through a small housing estate until you reach the wide Bach Promenade along the river to Auffach. At the Schatzberg lift station take the free ski bus back to Niederau.

Details
| | |
| --- | --- |
| Max. Altitude | 965 |
| Start | Oberau Roggenboden |
| End | Auffach |
| Public access | mit Bus: Haltestelle Dorferwirt Oberau |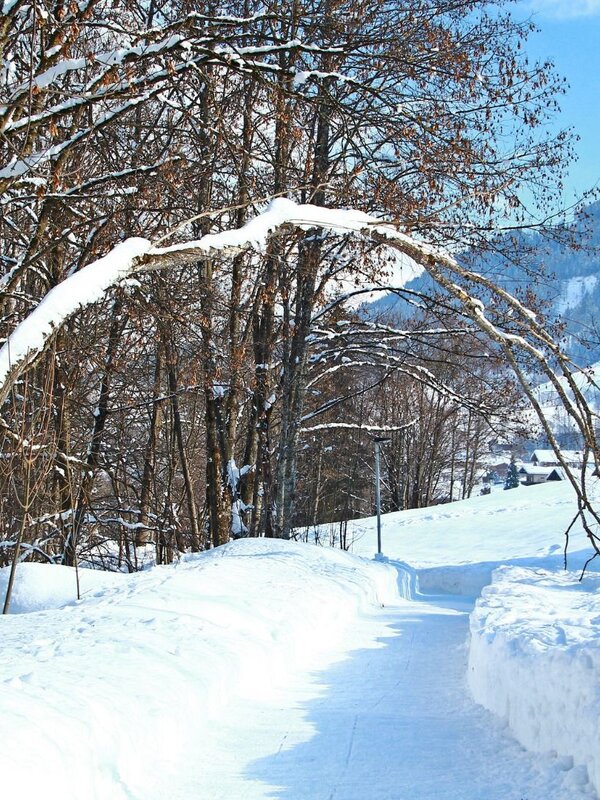 Tips for you
Good to know
There's more!
Similar tours