a unique museum in TIROL
1. Tirolean Wood Museum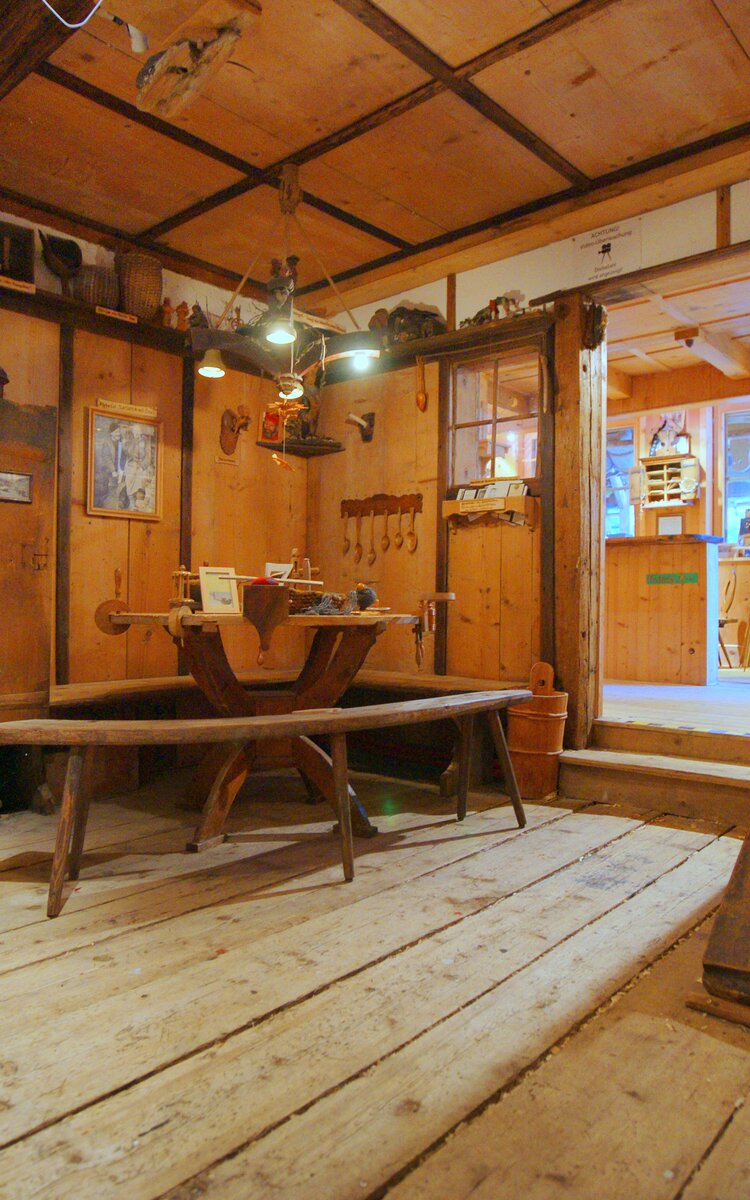 Where wood comes alive! Interesting facts and curiosities about wood can be seen in the Wood Museum in the centre of Auffach.
At the entrance to the village of Auffach in the Wildschönau, a unique wood museum by initiator and owner Hubert Salcher from the Wildschönau awaits you:
On over 2,000 m², an exciting labyrinth leads through 39 unique rooms. Among the more than 3,000 wooden exhibits are funny and curious specimens such as a bra, the smallest wedding chapel in Europe, a "Pumuckl tree hut" for children, a woodworm exhibition and much more.
A 1 km long wood theme trail connects to the wood museum.
Over 3000 showpieces are exhibited in 59 wooden chambers in the 1st Tirolean Wood Museum. Hubert Salcher has created this world of wood through his profession, carving.
In the old workshop, a functioning old table radio to the handmade leather shoes with wooden soles are preserved, leaving the impression that the master had just hurried out of the room for a brief moment.
In the winding kitchen next door, there is an original butter churner.
The 17th century wood-burning oven is still in working order.
All around, rare carvings and wooden miniatures captivate the visitor.
The curiosities such as a wooden nail and woodworm, the oldest folk song harp in Tirol and the bra made of wood are worth a visit in their own right.
Entrance fee:
€ 15 per person
€ 12 per person with the Wildschönau Card
Children up to 1m height free.
Travel groups of 12 or more on request
€ 12 per person
€ 15 per person outside regular opening hours
Special guided tour with owner Hubert Salcher (40 minutes) extra charge € 3 per person.
In winter open every Friday from 10 a.m. to 2 p.m.
For groups of 12 and over we open on request.
From 19. May to 30. September 2023
Wednesday to Friday from 10 a.m. to 5 p.m.
Last entrance at 4 p.m.
For groups of 15 people and any time possible on request.
Please book in advance: info@holzmuseum.com